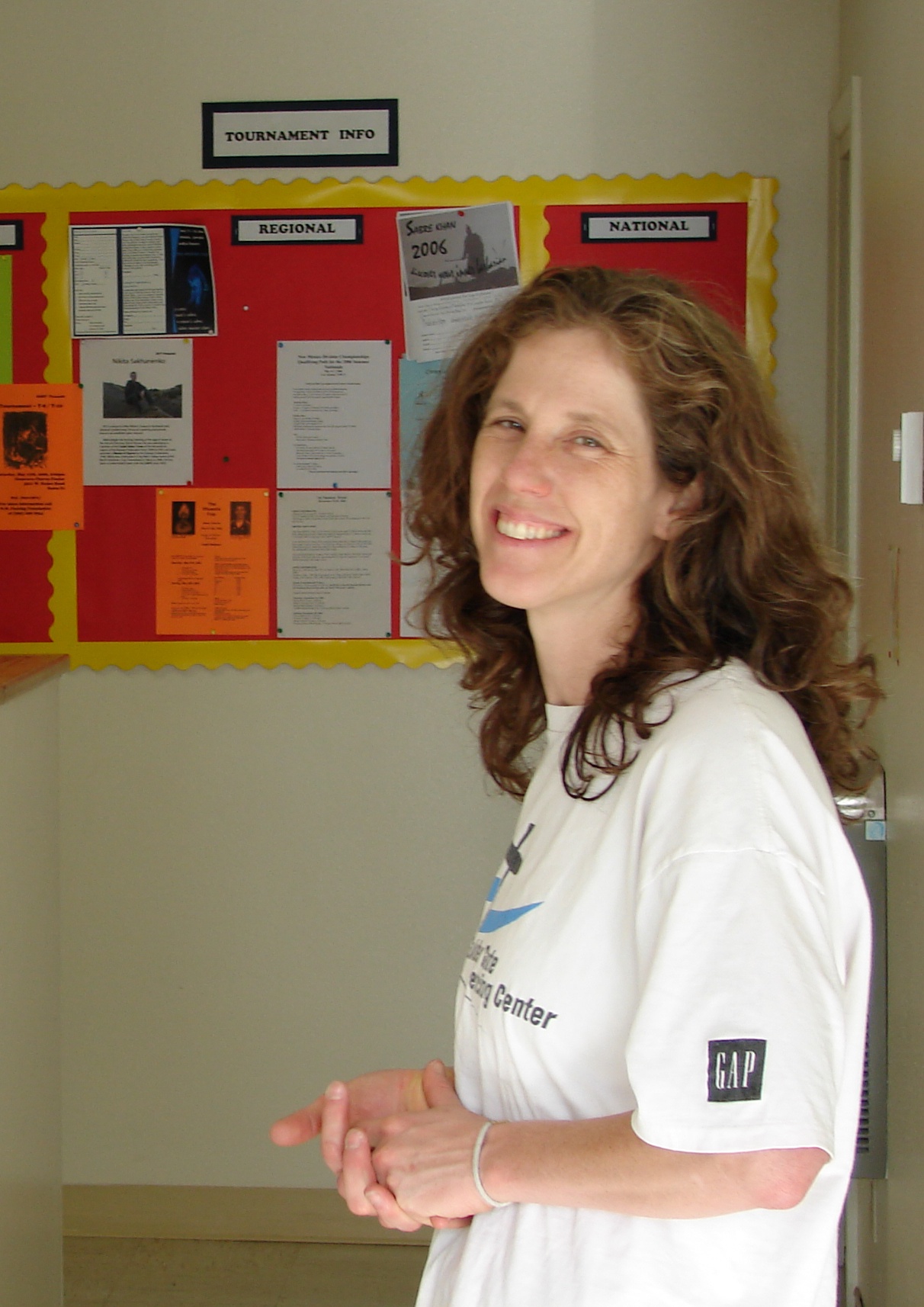 Toby Tolley, Owner, Coach - Epee, Foil
Coach Tolley has fenced for over 30 years on both the national and international level. Her achievements include World Cup points, Division 1A National Champion and 7 Sectional Championships. Prior to opening Duke City Fencing, she represented the New York Athletic Club in competition.
Coaching Experience
• Moniteur d'Escrime, US Fencing Coaches Assoc. (USFCA)
• Level 3 Coach in epee & foil, Level 2 in saber through the US Fencing Coaches' College
• Five years as head coach for 3-Weapon high school teams

Coach Tolley is also a national and international referee. She referees for the US Fencing Association at home and abroad.






Head Coach Evandro




This upcoming October Master Evandro Oliveira marks 25 years as Maitre d'Armes of the International Fencing Federation. Evandro is one of the youngest coaches ever to earn the title of Master, the highest certification a fencer can achieve. He has completed several international specialty training programs in Epee, including in France, Italy, Hungary, and Russia.

He was the Head Coach of the Brazilian National Epee Team, and Coach of the Pentathlon Team of the Brazilian Air Force. Most recently, he was the Head Coach of the Paraguayan Olympic Committee.

His passion, dedication, and professionalism account for multiple achievements of the Brazilian team in World Cup competitions, and in South American, Pan-American and World Championships. The Pentathlon Air Force team achieved several world titles while under his guidance. As the Head Coach of the Paraguayan Olympic Committee he supported a very young athlete who ended the 2018 season as one of the eight best fencers in the world.



"For me fencing is a devotional act. It is my way to share with athletes a tradition of honor and respect that is much needed in the world today. All my past and current students know that I am here to help them. They can rely on me anytime, day and night. Being a Master is all about being committed to the students and their families."




Coach Andy




"I like fencing because it's fun, it's good exercise, it offers a good mental and physical challenge. 'It helps keep me young, by gollies!'




"I started fencing in 1999. I've coached in Reno, NV and for the University of New Mexico fencing team.




"In 2016, Coach Andy was awarded the Spirit of Fencing Award by the US Fencing Association."





Andy shares his love of fencing with anyone who is willing to listen. His enthusiasm for the sport, gentle humor, and ability to listen have drawn dozens of people to learn fencing and kept them coming back to practice.




Coach David





Fencing really makes you concentrate, but you also have to relax. At tournaments, the level of competition really tests your mental discipline as well as your physical strength.

"One of my favorite parts about coaching at DCF is teaching the kids new things, especially the things I've had to learn, so that they don't make the same mistakes. Seeing my students progress in the sport is super-rewarding.

"DCF is like a family: everybody knows each other. It's a great place to get better."










Coach Josh




Josh has been fencing for over 20 years. During his fencing career, he has worked with several excellent teachers, but has been primarily mentored by the late Delmar Calvert, and later in his fencing career by Sebastien Dos Santos.




Josh is a certified Prevot d'Epee by the Academia d'Armes de France and the United States Fencing Coaches Association. In 2005, he trained in Szombathely, where he worked with some of the top Hungarian coaches on fencing pedagogy. In 2009, by invitation of the National Epee Coach, he attended the United States Men's Epee National Team Camp, to help with their preparation for the World Championship in Antalya, Turkey. Prior to coaching at Duke City, Josh was the epee coach at Northwest Fencing Center, and the head epee coach at Southern Oregon Fencing Center.




As an athlete, he joined the Northwest Fencing Centers Senior Epee Team and won the 2011 United States National Team Championship. In 2012, he joined the Northwest Fencing Centers Senior Epee Team again to win the 2012 United States National Team Championship.




When not fencing, Josh works as a CPA for a Wealth Management Firm, specializing in corporate taxation. In his spare time, he enjoys road cycling and reading.











Coach Katie