Duke City Fencing offers after-school fencing classes for kids aged 6 through 15 and evening lessons for adults. We teach the Olympic sport style of fencing with a focus on epee. We offer classes for all skill levels, from Intro to Fencing for first-timers to Competitive for fencers who travel and compete.
Private individual and small group lessons are available.
We offer sibling and family discounts, and everyone's first visit with us is free!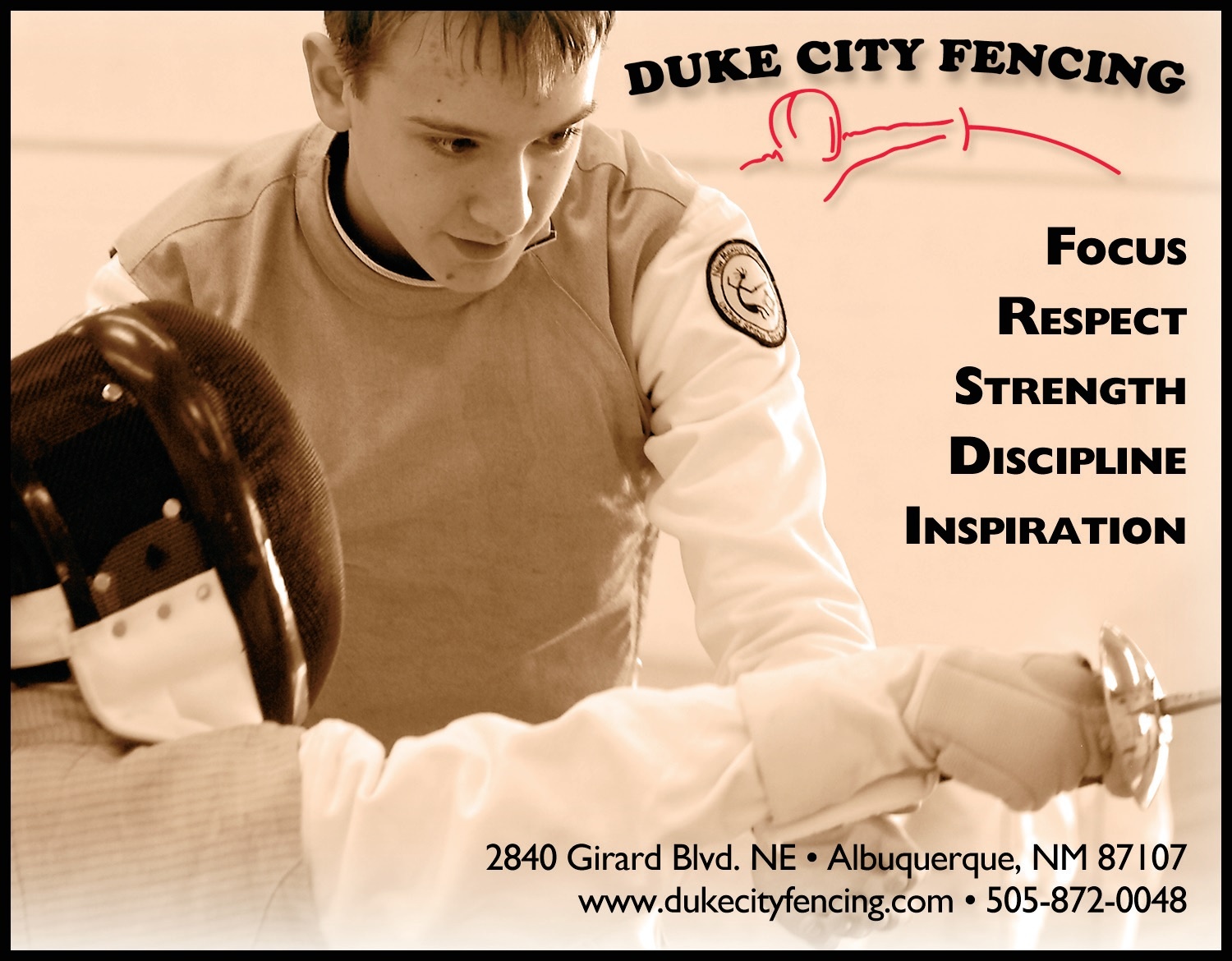 Ages 9 - 15
Saturdays 11:00 am - 12:00 pm
This is the perfect class for beginners who are interested in learning to fence. No experience is required, and all equipment is provided. Walk-ins welcome, and as always, your first class with us is free.
Ten-Class Punch Card . . . . . $125.00 plus tax

Mini Musketeers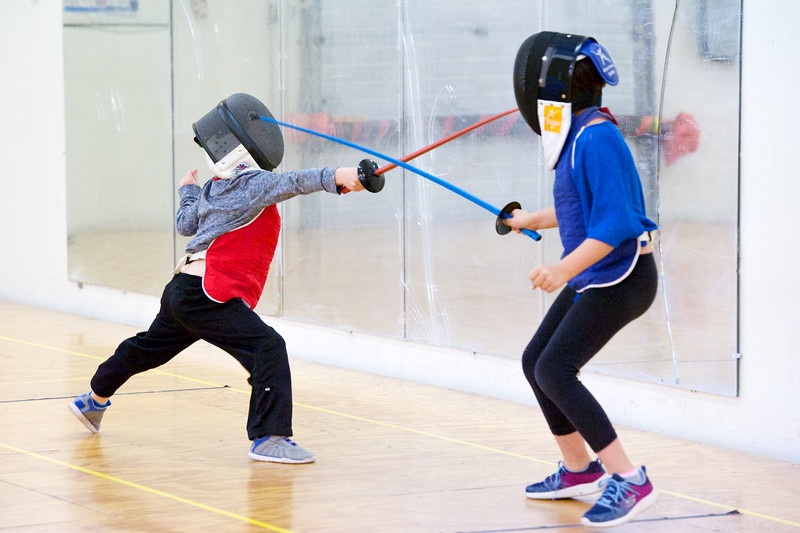 Ages 6 - 9
Wednesdays 4:00 pm - 4:45 pm
Fridays 5:00 pm - 5:45 pm
Saturdays 10:00 am - 10:45 am
This is a great class for younger kids to start the sport of fencing. We ask that you schedule two private lessons with us first before starting the class so we can get your child up to speed and see how well they like learning fencing.
Per month . . . . . $75.00 plus tax
Two Preliminary Lessons . . . . $40.00 plus tax
Advanced Beginner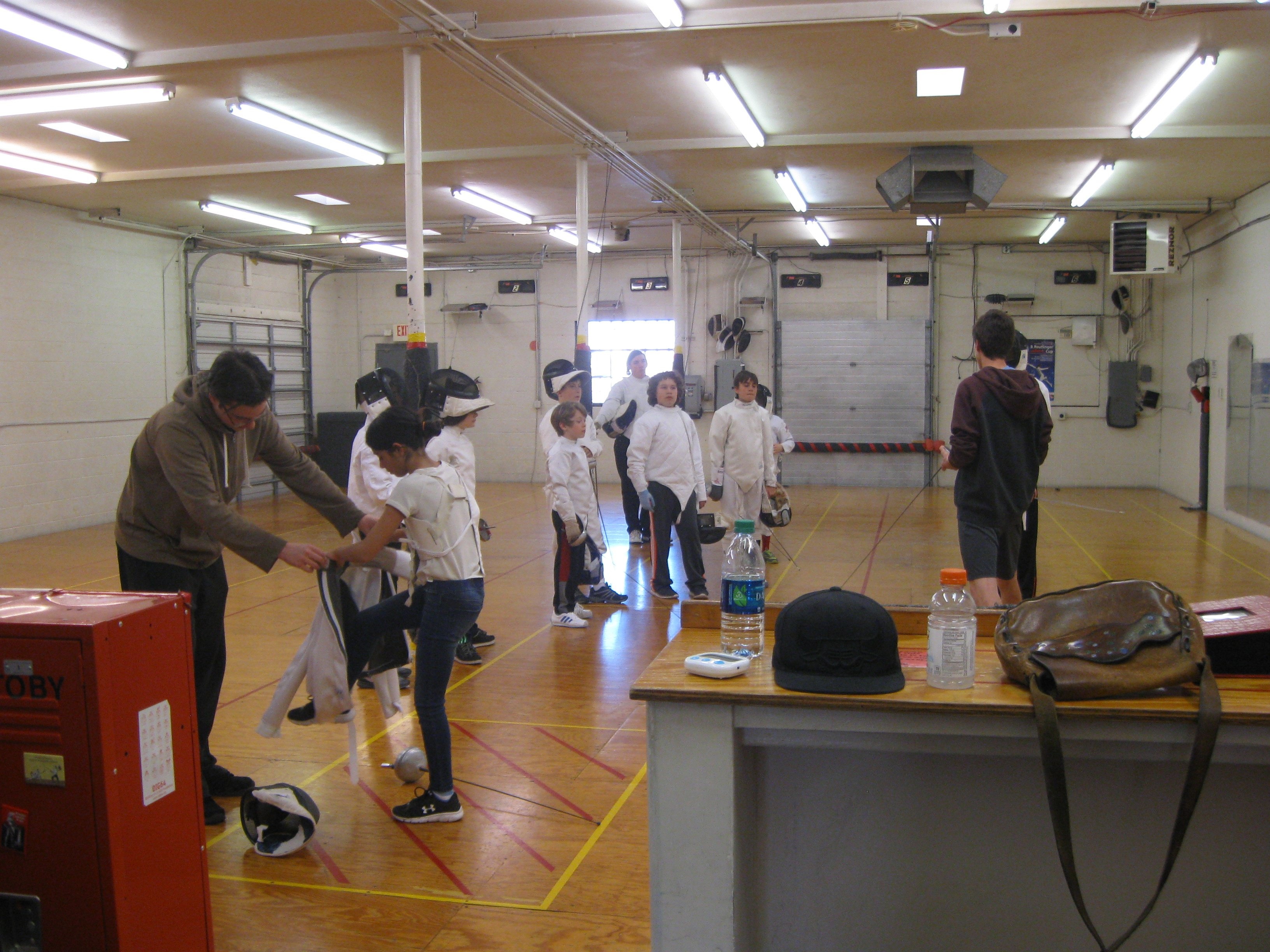 Ages 9 - 15
Mondays 4:00 pm - 5:15 pm
Tuesdays 4:00 pm - 5:15 pm
Thursdays 4:00 pm - 5:15 pm
After about 10 Introduction to Fencing classes, fencers are ready to graduate to our Advanced Beginner classes to continue building their technical and tactical skills with fencing.
Per month . . . . . $110.00 plus tax
Intermediate
Ages 9 - 15
Advanced Beginner classes +
Open Bouting

Our Advanced Beginner students hone the skills they've learned with electric bouting against other club members in addition to their regular classes.

Per month . . . . . $125.00 plus tax

Competitive
Ages 9+
Mondays 5:30 pm - 8:00 pm
Tuesdays 5:30 pm - 8:00 pm
Thursdays 5:30 pm - 8:00 pm
By invitation for experienced fencers who want to travel and compete and improve their tournament performance.
Per month . . . . . $150.00 plus tax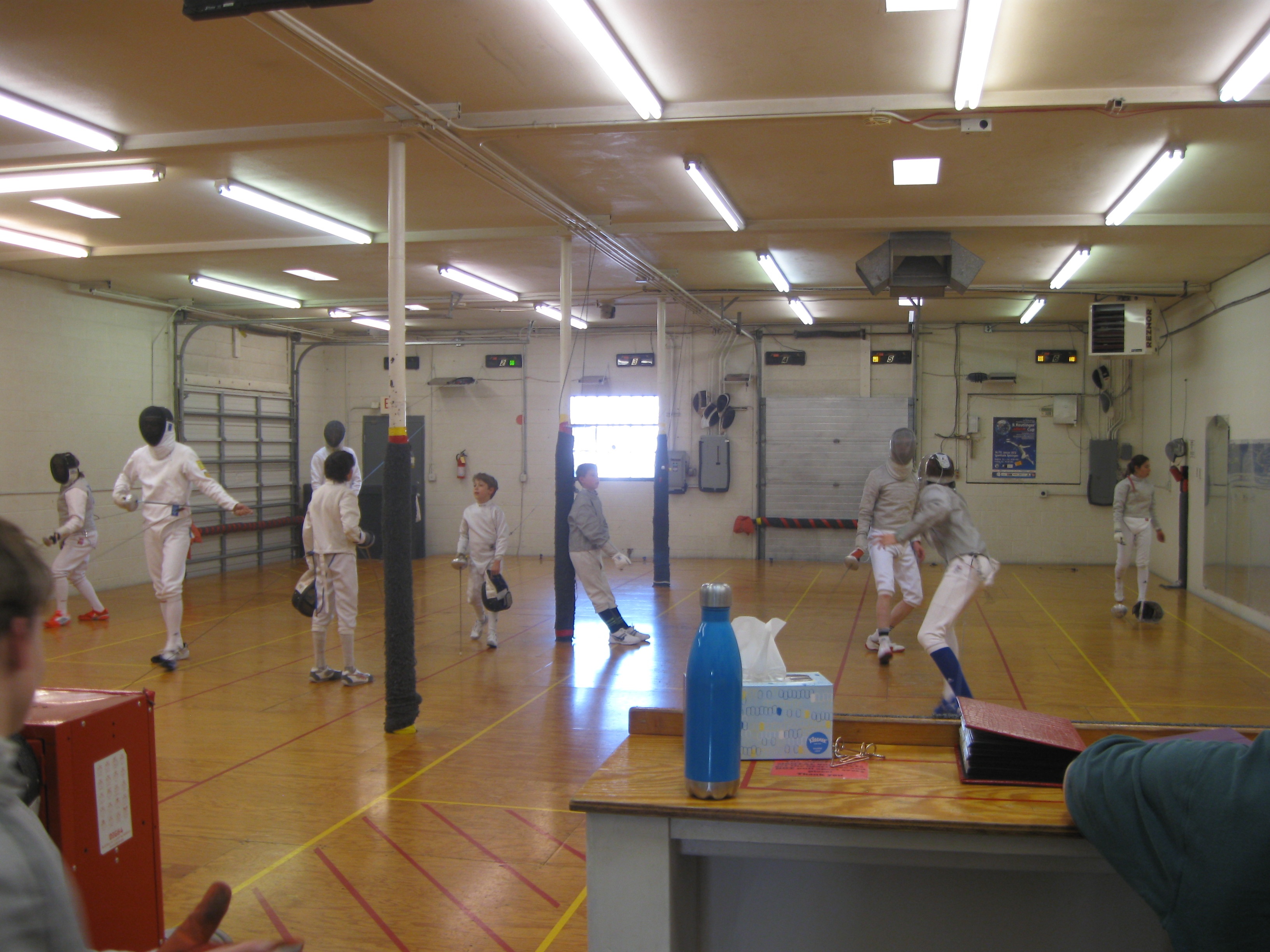 Mondays 7:00 pm - 9:00 pm

Wednesdays 5:00 pm - 9:00 pm
Saturdays 10:00 am - 12:00 pm

We have six electrical strips available for foil, epee and saber fencers to bout against others and have fun.

Per month, 18 and over . . . $85.00 plus tax
Per month, under 18 . . . . . $100.00 plus tax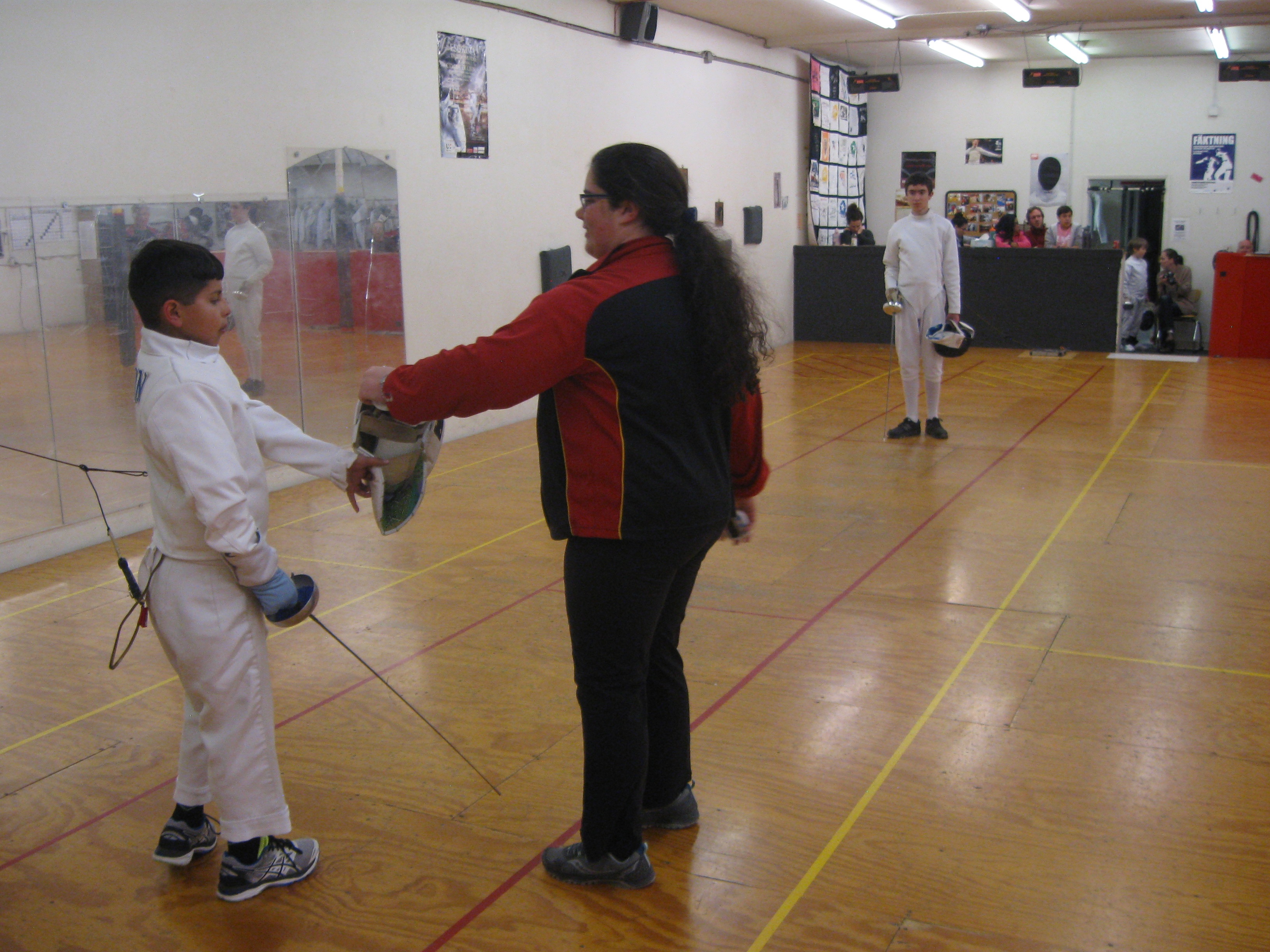 Ages 6+
By appointment during open hours
Our coaches are available for private fencing lessons. Private lessons are a great way for new or advanced students to improve with one-on-one coaching. Please contact us to schedule a time.
Per lesson . . . . . $35.00 plus tax
Per 4 pack of lessons . . . . . $120.00 plus tax
Per 8 pack of lessons . . . . . $200.00 plus tax

Adult Drop-In Classes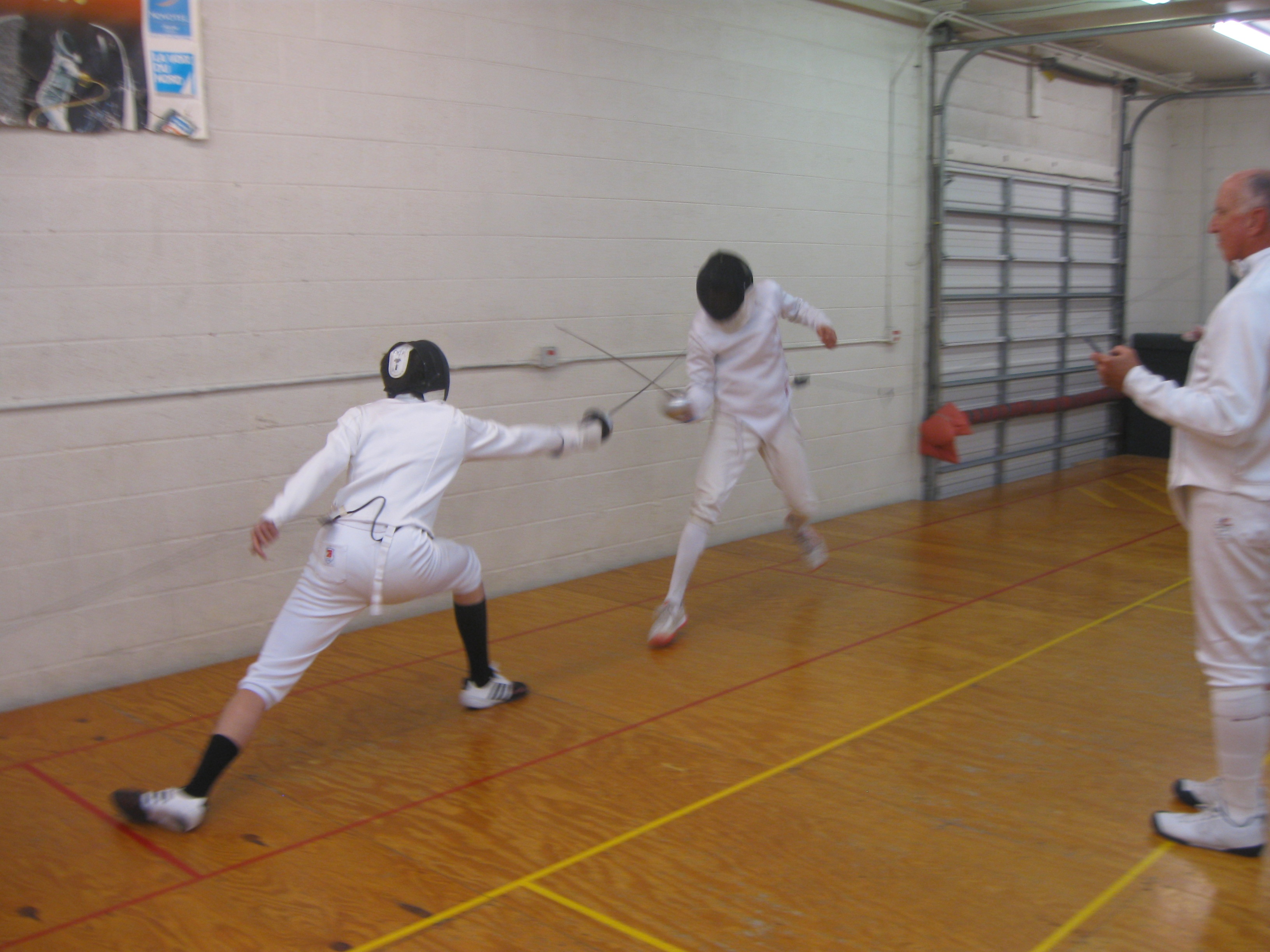 Ages 15+
Mondays 7:00 pm - 8:00 pm
Wednesdays 7:00 pm - 8:00 pm
Coach Andy teaches an open drop-in lesson for adults who want to learn fencing too! The primary weapon taught is epee, and the Wednesday class coincides with our Open Bouting night for those who want to stick around and fence once they've gotten the basics.

Per lesson . . . . . $35.00 plus tax
Per pack of 4 lessons . . . . . $120.00 plus tax
Per pack of 8 lessons . . . . . $200.00 plus tax

Group Lessons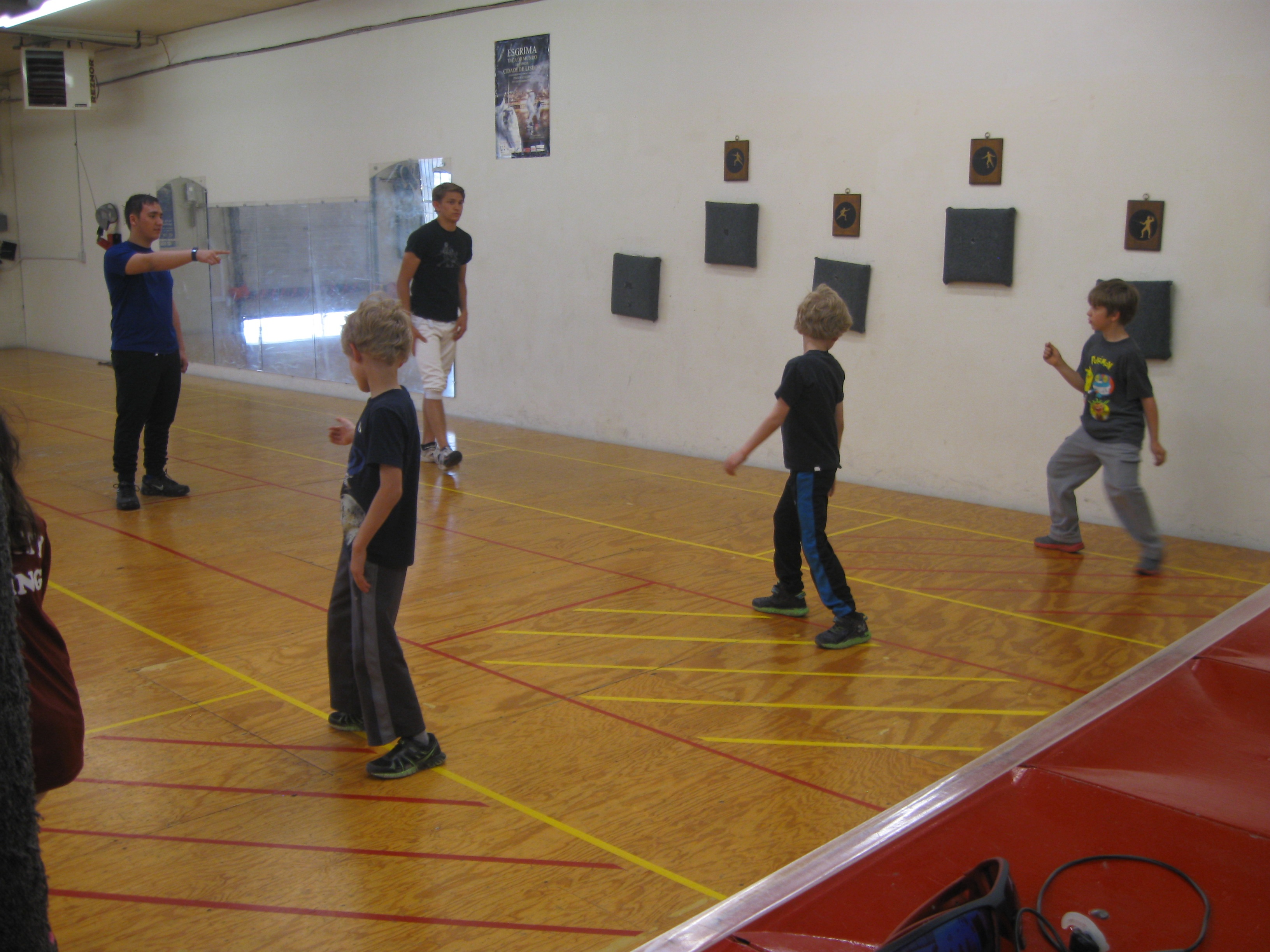 Ages 6+
By appointment
Our club can accommodate groups of up to 12. We'll teach a 90-minute beginners fencing class that is great for birthdays, scout troops, and youth groups.

Please contact us for pricing.

Class List
What to Wear?
For beginner classes, wear sneakers with non-marking soles and comfortable athletic clothes that allow a full range of motion.
Advanced Beginner students should purchase their own glove, which can be purchased through the club.

Intermediate students may borrow club gear for up to three months. We will assist with sizing and purchasing recommendations.
For Open Bouting, remember to bring your tall socks!
Our Club Membership Form & USA FencingTrial Membership
We ask all of our first-time students to complete an Emergency Contact & Waiver Form and a USA Fencing Trial Membership Form if they're not already a USA Fencing member.
As always, every new fencer's first visit is free!

Annual Club Membership




We ask our students for a DCF club membership of $125 per year for individuals, $165 for families (plus tax), due after the:

first month of regular classes, or

first 10 Intro to Fencing classes, or
first 4 private lessons.

This membership covers the use of loaner equipment, and helps with the upkeep of our facility.

DCF Membership is due every August 1 and is extended an extra year if purchased after April 1, just like USA Fencing membership.


USA Fencing
Membership




Your club membership covers Non-Competitive membership in the USA Fencing.

For tournaments, you'll need to purchase your own Competitive membership through USA Fencing:

member.USAfencing.org
Discounts




We offer a discount on Annual Club Membership for families, which is $165 plus tax to enroll the whole family instead of our usual $125 plus tax per individual.

We also offer 25% off our monthly class fees for:

Sibling and Family

Active Military
Full-time college students living away from home

Drop-In Rates for Guest Fencers




If you're a fencer visiting from out of town or if you plan on coming to our Open Bouting night just once or twice a month, be our guest!




Guest fencers pay a floor fee of $15 per visit and are exempt from annual membership.




Guest fencers must own their own equipment and have a valid USA Fencing membership.