Events at DCF
We are open regular hours and look forward to seeing you.
Olympic Sport Epee Camp @
Duke City Fencing

July 20th - 25th

9AM - 2PM
Limit 10 Fencers -- reserve your spot today!

for more info: 505 872 0048

Footwork Schedule for July
3rd, 10th, 17th, 24th, 31st

See Tournament Results!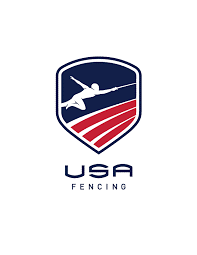 Questions about national tournaments or USA Fencing Membership? Click on the logo!
Upcoming Travel

Events
All events have been postponed by USA Fencing.
We will let you know when sanctioned competitions may begin safely

Duke City Fencing is Albuquerque's dedicated club for sport fencing.

We are a full service club offering lockers, a complete armory for weapon repair, six electric strips, private or group lessons and many other amenities.


Getting Started in Fencing
Duke City Fencing has fencing classes for children and adults!
We offer
Drop-In Lessons
with Coach Andy, perfect for adult beginners. Our
Mini Musketeers
class is for children ages 6 - 9, and our
Intro to Fencing
class is for older kids ages 9 - 15.
Your first class with us is free for first-time fencers! All equipment is provided, and no experience is required. We also offer family and sibling discounts.
A Lifetime Sport

Fencing is a sport for all ages. Many of our younger fencers started with us when they were in elementary school and pursued fencing with us through high school and on into college. On the other hand, most of our coaches started fencing as adults, went to tournaments, began helping out with coaching and developed their skills from there.
Click below to watch a "Why I Like Duke City Fencing video!
2840 Girard Boulevard Northeast
Albuquerque, NM 87107
505 872 0048
REGULAR HOURS

Mon. - Fri. 3:30 pm - 8:00 pm
Sat. 10:00 am - 12:00 pm


Friday Night Fights - Epee!
February 28th

Albuquerque, NM
Mini Musketeers
1. Xavier P.

2. Lloyd J.
3. Logan B.
Youth
1. Ale` A.

2. Dorian V.
3. Anna P.

3. Zoe J.

Senior
1. Reilly B.
2. Jack R.

3. Jeffrey Z.

3. Corbin S.

5. Wenxi C.
6. Katie L.

Vegas Epee Only RYC/RJC

March 6th-8th
Las Vegas, NV

Y12 Men's Epee
3. Jackson R.

Y14 Men's Epee
14. Jackson R.

Junior Men's Epee
5. Reilly B.
29. Jackson R.

Arnold Challenge
March 6th-8th
Columbus, OH
Div II Women's Foil
14. Allison T.

Veteran Women's Foil
1. Allison T.

WAY TO GO ALLISON!!!