See Tournament Results!
Friday Footwork Classes
Fridays 6pm - 7pm
Nov. 1st, 8th, & 22nd
Free to fencers of all ages
Friday Night Fights - Foil
Friday, November 15th

Starts at 5 pm

Even Better Epee
Fridays 7pm - 8pm
Nov. 8th & 22nd

Bring A Friend to Fence Day
November 22nd 5 - 7 pm

Rain City RYC
November 16th & 17th
Bellevue, WA

RYC of the Rockies
November 16th & 17th
Denver, CO
Blade Runner ROC
November 23rd & 24th
La Jolla, CA
December NAC
December 6-9th
Salt Lake City, UT
Austin Challenge
December 20-22nd
Round Rock, TX
January NAC
Jan 3rd-6th
Charlotte, NC

Duke City Fencing is Albuquerque's dedicated club for sport fencing.

We are a full service club offering lockers, a complete armory for weapon repair, six electric strips, private or group lessons and many other amenities.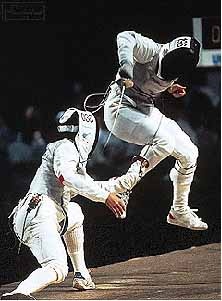 Getting Started in Fencing
Duke City Fencing has fencing classes for children and adults!
We offer
Drop-In Lessons
with Coach Andy, perfect for adult beginners. Our
Mini Musketeers
class is for children ages 6 - 9, and our
Intro to Fencing
class is for older kids ages 9 - 15.
Your first class with us is free for first-time fencers! All equipment is provided, and no experience is required. We also offer family and sibling discounts.
A Lifetime Sport

Fencing is a sport for all ages. Many of our younger fencers started with us when they were in elementary school and pursued fencing with us through high school and on into college. On the other hand, most of our coaches started fencing as adults, went to tournaments, began helping out with coaching and developed their skills from there.

Club owner and coach Toby Tolley is a former national Epee champion, certified with the US Fencing Coaches' College. Coach Tolley is an internationally qualified referee, and she has been teaching fencing to kids in New Mexico for over 14 years.
2840 Girard Boulevard Northeast
Albuquerque, NM 87107
505 872 0048
REGULAR HOURS

Mon. - Fri. 3:30 pm - 8:00 pm
Sat. 10:00 am - 12:00 pm


Sacapuntas
October 19thSanta Fe, NM

Y14 Mixed Epee
2. Jackson R.

Senior Mixed Epee

6. Katie L.
Friday Nights Fights - Epee

October 18th

Mini Musketeers
1. Xavier P.

2. Logan B.

3. Zoheb B.

Youth
1. Izeyah L.

2. Corbin S.

3. Alejandro A.

3. Zoe J.

Crescent City Open
October 26th & 27th
New Orleans, LA
Veteran's Women's Foil

1. Allison T.
Div II Women's Foil
8. Allison T.

Sacapuntas
October 19th
Santa Fe, NM

Y14 Mixed Epee
2. Jackson R.

Senior Mixed Epee
6. Katie L.

Wildcat Epee
October 20th
Tucson, AZ
C & Above Senior Mixed Epee
3. Sam B.

Senior Mixed Epee
6. Sam B.

Amarillo Open
October 5th
Amarillo, TX
Junior Mixed Epee

3. Aiden J.

6. Kaidyn G.

9. Corbin S.

D & Under Senior Mixed Epee
2. Izeyah L. E2019

3. Aiden J. E2019

5. Kaidyn G.

11. Corbin S.

12. Luna W.
Senior Mixed Epee

2. Izeyah L. D2019

6. Mel A. E2019

9. Luna W.
12. Aiden J.

17. Kaidyn G.