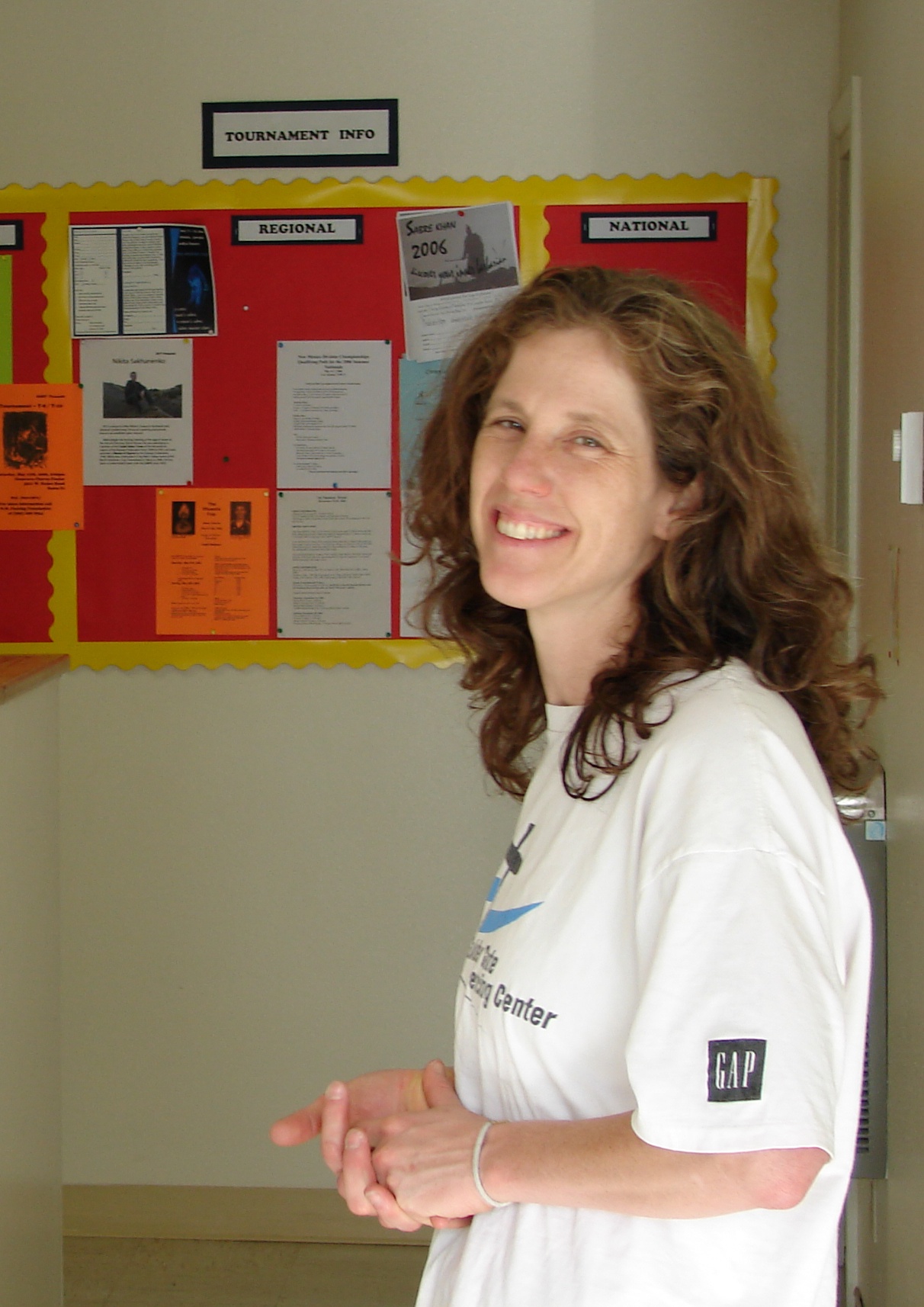 Toby Tolley, Owner, Coach - Epee, Foil
Coach Tolley has fenced for over 30 years on both the national and international level. Her achievements include World Cup points, Division 1A National Champion and 7 Sectional Championships. Prior to opening Duke City Fencing, she represented the New York Athletic Club in competition.
Coaching Experience
• Moniteur d'Escrime, US Fencing Coaches Assoc. (USFCA)
• Level 3 Coach in epee & foil, Level 2 in saber through the US Fencing Coaches' College
• Five years as head coach for 3-Weapon high school teams

Coach Tolley is also a national and international referee. She referees for the US Fencing Association at home and abroad.






Head Coach Evandro




This upcoming October Master Evandro Oliveira marks 25 years as Maitre d'Armes of the International Fencing Federation. Evandro is one of the youngest coaches ever to earn the title of Master, the highest certification a fencer can achieve. He has completed several international specialty training programs in Epee, including in France, Italy, Hungary, and Russia.

He was the Head Coach of the Brazilian National Epee Team, and Coach of the Pentathlon Team of the Brazilian Air Force. Most recently, he was the Head Coach of the Paraguayan Olympic Committee.

His passion, dedication, and professionalism account for multiple achievements of the Brazilian team in World Cup competitions, and in South American, Pan-American and World Championships. The Pentathlon Air Force team achieved several world titles while under his guidance. As the Head Coach of the Paraguayan Olympic Committee he supported a very young athlete who ended the 2018 season as one of the eight best fencers in the world.



"For me fencing is a devotional act. It is my way to share with athletes a tradition of honor and respect that is much needed in the world today. All my past and current students know that I am here to help them. They can rely on me anytime, day and night. Being a Master is all about being committed to the students and their families."




Coach Andy




"I like fencing because it's fun, it's good exercise, it offers a good mental and physical challenge. 'It helps keep me young, by gollies!'




"I started fencing in 1999. I've coached in Reno, NV and for the University of New Mexico fencing team.




"In 2016, Coach Andy was awarded the Spirit of Fencing Award by the US Fencing Association."





Andy shares his love of fencing with anyone who is willing to listen. His enthusiasm for the sport, gentle humor, and ability to listen have drawn dozens of people to learn fencing and kept them coming back to practice.




Coach Jack




"I have been fencing for twelve years. I started at DCF in the Mini Musketeers class when I was six years old. My mom saw an ad in the paper for fencing, and I was super into Star Wars at that time, so it was a natural progression.




"I started the Competitive class when I was nine. At that time, the Minis class and the Competitive class were at the same time, and one day, Toby asked us if we wanted to go over and do it, because we weren't paying attention – we were looking at the exercises the Competitive class was doing, and that day, we said, 'Yes!' And basically, that's how I joined the Competitive class."






Coach Spencer


"Fencing is like if chess were a sport. It's both a mental game as well as a physical one. It's a challenge that anyone, old, young, tall, or short can take on, and Duke City Fencing is a great place to get started."

.







Coach David





"Fencing really makes you concentrate, but you also have to relax. At tournaments, the level of competition really tests your mental discipline as well as your physical strength.

"One of my favorite parts about coaching at DCF is teaching the kids new things, especially the things I've had to learn, so that they don't make the same mistakes. Seeing my students progress in the sport is super-rewarding.

"DCF is like a family: everybody knows each other. It's a great place to get better."









Student Coach Kameron





.

"Fencing is a passion in which one must be physically and mentally balanced. The blade is an extension of the body and soul.

"The passion I see at Duke City Fencing is what drives me to be a coach. I love being a coach because I love seeing people thrive and be the best they can be.

"Duke City Fencing is a place where one is cared for and driven to better themselves. Everyone is important here, and I will always do my best to help them thrive physically and mentally in the passion of fencing."










Student Coach Ava





"I like fencing because it gives me a way to express myself safely. It's a fun sport that can take you far, and I think it is beautiful. I have tried many different sports - fencing stole my heart.

"Coaching at Duke City Fencing allows me to help others learn something new. I hope to teach someone else to love fencing the way we coaches at Duke City Fencing do. "